Friends of the School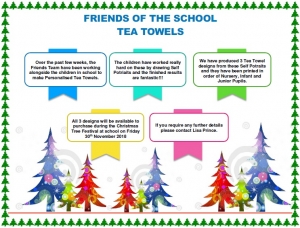 (Posted on 13/11/18)
Over the past few weeks, the Friends Team have been working alongside the children in school to make Personalised Tea Towels.
The children have worked really hard on these by drawing Self Portraits and the finished results are fantastic!!!
We have produced 3 Tea Towel designs from these Self Portraits and they have been printed in order of Nursery, Infant and Junior Pupils. All 3 designs will be available to purchase during The Christmas Tree Festival at school on Friday 30th November.